LEATHERHEAD WAR MEMORIALS
Memorials to Individuals in Leatherhead Parish Church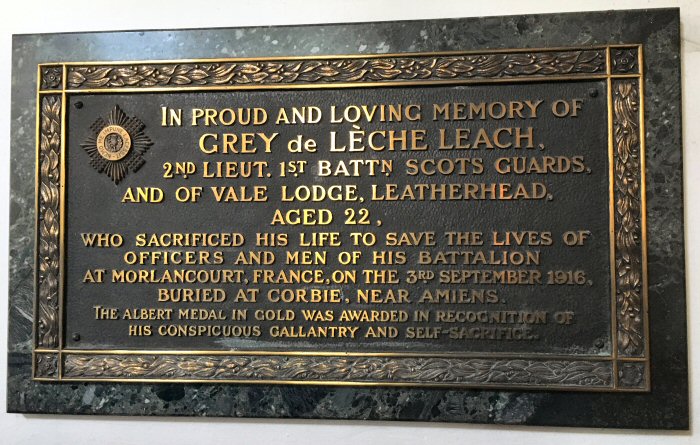 IN PROUD AND LOVING MEMORY OF
GREY DE LÈCHE LEACH,
2ND LIEUT. 1ST BATTN. SCOTS GUARDS,
AND OF VALE LODGE, LEATHERHEAD
AGED 22,
WHO SACRIFICED HIS LIFE TO SAVE THE LIVES OF
OFFICERS AND MEN OF HIS BATTALION
AT MORLANCOURT, FRANCE, ON THE 3RD SEPTEMBER 1916,
BURIED AT CORBIE, NEAR AMIENS.
THE ALBERT MEDAL IN GOLD WAS AWARDED IN RECOGNITION OF
HIS CONSPICUOUS GALLANTRY AND SELF SACRIFICE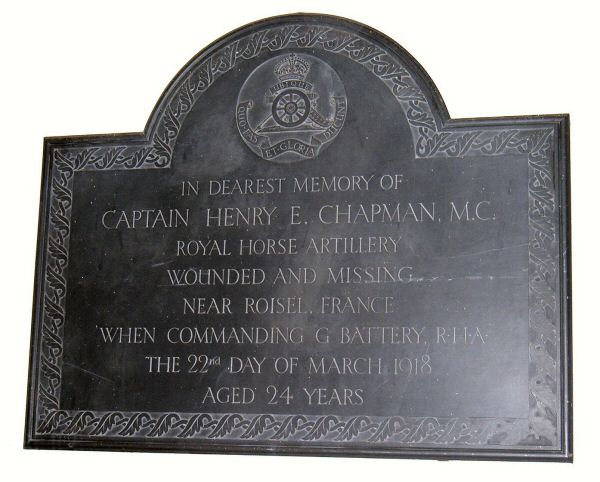 IN DEAREST MEMORY
OF CAPTAIN HENRY E. CHAPMAN M.C.
ROYAL HORSE ARTILLERY
WOUNDED AND MISSING
NEAR ROISEL, FRANCE
WHEN COMMANDING G BATTERY, RHA
THE 22ND DAY OF MARCH 1918
AGED 24 YEARS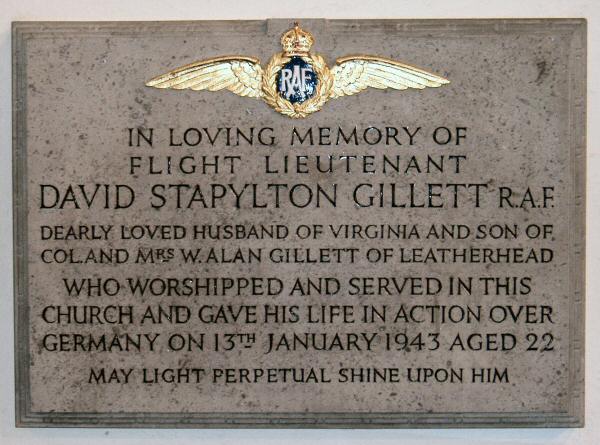 IN LOVING MEMORY OF
FLIGHT LIEUTENANT
DAVID STAPYLTON GILLETT RAF
DEARLY BELOVED HUSBAND OF VIRGINIA GILLETT

AND SON OF

COL. AND MRS. W. ALAN GILLETT OF LEATHERHEAD
WHO WORSHIPPED AND SERVED IN THIS
CHURCH AND GAVE HIS LIFE IN ACTION OVER
GERMANY ON 12TH JANUARY 1943 AGED 22.

MAY LIGHT PERPETUAL SHINE UPON HIM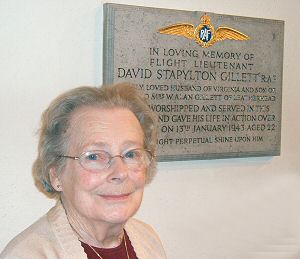 Mrs Virginia Gillett and her husband's plaque, 25 July 2004