anti-spam: email addresses are shown as their.nameATtheir.isp .... instead of their.name@their.isp
copy and paste the address into 'to' of your email and then replace AT with @ before sending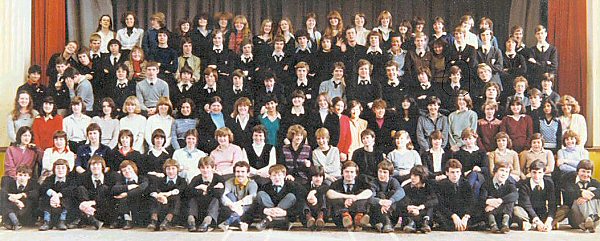 Sixth form 1979-80: source Chris Ranger
1970 Clive BISHOP: message 27.2.04 updated 1.7.04: contact: bishyATzol.co.zw or clivebATcfs.co.zw
Clive Bishop – left June 1970. Memories of Therfield – didn't enjoy studying too much but was always very keen on sport and acting/singing. Anyone remember me taking the lead role in the operetta Amahl and the Night Visitors in 1966? I was ridiculed by Steve Hay and others for being a 'choir boy' but then they came to the performance and had nothing but praise for me.
Teachers I remember, Miss Wilson of course and Basil Du Mont who were instrumental in the above, Mr Goldhawk (history), Mr Hummel (geography), Miss Nicholson who I have seen over the years in my visits back home, Mr Hanks (Woodwork), Miss Jones (Biology), Mr Featherstone (TD), Mr Tomlinson (PE).
Class mates, James Gibson, Robert Spearpoint, Kenneth Ockenden, Richard and John Neville, Robert Freemantle, Dave Mills, Nick Luck, David Miller, Ray Bradley, Robert Collier, David Marsh.
After leaving school, I joined the Midland Bank in Leatherhead and in 1978, I emigrated to Rhodesia. Joined Barclays Bank where I stayed for 22 years rising to the rank of Directors Assistant. Left the bank in 2000 and spent a couple of years running a distance based learning college in Harare. I am now in a small company looking after offshore Trusts and Investments.
I never stopped singing and am still heavily involved with conducting and singing in choirs in Harare. I am happily married to Ygerne and have one daughter Amy. Zimbabwe is currently going through dreadful times, politically and economically but is still one of the most spectacular countries in the world. The wildlife is awesome. If anyone of my past school life remembers me, please get in touch.
---
1970 Leigh BUTLER (now Haupt) : message 18.9.01 : contact: ltmadATiinet.net.au
Hello to all the oldies out there that still can remember their youth. It was great to find this site existed when out of curiosity I looked up my old school. Just the fact that I even know how to use a computer would, I'm sure, surprise quite a few of my old teachers as well as old friends. I do remember with a great affection MOST members of staff! Some have left me permanently scarred although on reflection I think I would have had me expelled. Mr Fitzsimon, Miss Smith, Mr Hanks (who I hope does not remember me humming the Death March while I was walking down the corridor, after being told by him in no uncertain words to "shut up" - verbal diahorrea was my main problem (and according to my husband and 3 sons still is!)
After marrying the most terrific man (he made me type that one) - and as I said we have three great boys (17, 19, 21) - I now live in Perth, Western Australia, where the sun never stops shining and life is great. I work full time managing a wholesale company. Anyone who remembers me (own up) please contact me, also anyone knowing the whereabouts of Susan Luechford (who I think also lives out here in Oz) please let me know. Peter Ormarod, Jimmy and Eddie Hiscock, Susan Marie, Sherrie Daines to name but a few - oh and DEANO! - any of you lot out there please contact me, thanks, Leigh.
---
1971 Steve BREWER : message 19.2.00 : contact: s.brewerATvirgin.net
I'm afraid it will be mainly sporting achievements (running) rather than academic ability - not that I blame the standard of teaching in those good old days ... I think it might have had a bit to do with me!
I left Therfield aged 16 in 1971 with results that took me into an engineering apprenticeship. Disabled by a bad accident at work, I eventually found myself writing software for the retail trade and now I have my own web design business.
I live in Peterborough and I have the Peterborough United FC fan site. It links to another site I and my sons run, the Official PUFC website.
---
1971 Simon BUTLER : message 28.9.01, updated 3.10.01: contact: simonATspeakeasy.net
I left at age 16 to study Engineering. A great school. I was in Leith House. I remember taking rock music to Miss Wilson's music lesson to play to the class. It all seems like a lifetime ago (it is!). Classmates I recall are Ian Gibson, Robert Topping, Trevor Wright, Lynne West, Yvonne Tomlins, Pauline Reddick, Hazel Smolders, Marianne Pinches. Other good friends were Roger "Dog" Morris, Anthony Ryder, Adrian Borgust, Duncan Kilburn and many more.
I would love to hear from any of my old friends from Therfield. I now live in San Rafael, California, have a daughter and am a Principal Engineer at an electronics "start-up" in Palo Alto, California.
---
1971 or 72 Adrian BORGUST : message 26.9.01 updated 16.10.05: contact: a.borgust1ATntlworld.com
Great school and good friends. I enjoyed my years at Therfield and the level of education I received has held me in very good stead throughout my life. Mr DuMont was a fantastic teacher. I remember Mr. Hanks whom I respected and I always enjoyed his the engineering drawing classes; Mr. Goldhawk, Mr. Featherstone and the Head at that time, Mr. Claytor. All good teachers, firm but fair. I left at the end of my 5th year, after taking my O levels to continue studying A Levels at Ewell Tech (now NESCOT).
Classmates Martin Rutledge, Lindsay (where are you now!!) Smith, Andrew Lovell, Kevin Noble, Alison Worsfold, Julie Vickery, Debbie Brisbourne. One year above but good friends I still keep in touch with today (in fact through your site I have made contact with Roger Morris, now living in LA and visiting me at Christmas!!) Ian Gison, Alan Chapman, Duncan Kilburn, Simon Butler, Jackie Adams, Pauline Reddick, Evonne (?), Tanny, Anthony Ryder, Craig Thompson, Brian Cornford, and a great rock guitarist Nick Ritchie (and his sister Claire) - I wonder if he still plays?
I am married, 2 children and would love to hear from anyone who remembers those halcyon days.
---
1972 (I think) Roger (Dog) MORRIS : message 22.12.00 : contact: simian1ATmindspring.com
I was in Polesden house, Mr DuMont. Remember Messrs. Price and Hanks getting mediaeval on us for throwing hammers down the soccer field. I now live in Los Angeles. If anyone was at Therfield in my year, please drop me a message. Cheers.
---
1972 David Reed : received 8.1.10 : contact DAVRWHU AT aol.com
I remember the first two years at Kingston Road with the outside toilets. Moving to Dilston Rd in the third year. I always loved History, my best subject.
I remember Mrs Hack, Miss Wilson, Mr HH, Miss Thomas and Mrs Lyner. Amongst the pupils some already listed plus Michael Ranger, David Evans, Maureen Strickland and Angela Alexander. I would love to hear from them or from someone who knows how they are,
---
1972 David WICKETT: message 17.07.02: contact: David.Wickett3ATbtopenworld.com
Many memories of Mr Hanks, Mr Price, form teacher Miss Lyner, Mrs Brooks etc. Still see Colin Stewart and I am in contact with Donald Reid. Remember Nick Talamo, Anthony Ryder, Roger Beaumont, Lynne West, Brian Edmund. Now living in Devon with lovely wife and 2 boys.
---
1973 Sue BARNLEY (now Smith) : message 9.1.01 : contact: suedsmithATic24.net
I left in 1973, to live on the Isle of Wight (I am still here!). My name, then, was Susan Barnley. D.O.B. 14/02/61. I am just coming up to the big 40, and decided that this was a good time to try to trace some of the friends that I left behind.
Although it feels like a lifetime ago, once I started to think of some of the names, it all started flooding back! I would really like to get in touch with anyone who remembers me, but I am not really sure how to go about it, and when I saw your website I thought I would ask if you could help! Do you have a local radio station, or newspaper that people of my age would listen to or read?
Some names that I have in my autograph book that everybody signed when I left are: Claire Constable, Susan Longhurst, Susan Francis, Susan Hutchinson. I used to live in Belmont Road. I have not been back, but if you ever have a re-union for the age group that I would have been in, I would be very grateful if you could let me know.
---
1973 Jennifer BULLEN : message 2.10.01 : contact: proptart10ATworldnet.att.net
After leaving Therfield I went on to Teacher Training College. After a brief sojourn as a physical education teacher etc., I left for the USA. Here I am the production stage manager for a major mid west ballet company. This keeps me really busy, but when we have down time my partner and I go to our cabin in the woods.
I have great memories of Nick Hunter-Henderson, Jude Scott, Basil Du Mont, Mrs Bleach, Miss Griffith, Pip Woods, Mr Bates, Ms Nicholson, Ms Smith etc. I always wondered what happened to Sally Grace and Chris Pape, and all that crowd who hung with Nick Hunter-Henderson etc. over Ashtead.
---
1973 Vera CASEY (now Mouser): message 10.09.08: contact mousev AT aol.com
At Therfield from (I think) 1970/71-1973 - I was there 4th, 5th, 6th. I have pictures from back then I could scan and send to you.
---
1974 Debbie BUTLER (now Bostridge) : message 3.10.01 :contact: bostridgeATmediaone.net
Sister of Leigh Butler. Names I remember are Jane Donavan, Helen Ramsey, Paul Stone, Colin Little, Pam Creasey, Janice Chandler.
After leaving Therfield I worked for a short while in Dorking, then moving on to the Big City, I worked for Shell Oil on and off for about 14 years. My hubby and I moved out to America 7 years ago and are now raising our family in a town just north of Boston. I have two daughters aged 4 and 6 and a stepson of 17.
---
1974 Martin GANDAR : message 01.07.02: contact: martinATgandar.demon.co.uk

I left Therfield in the summer of 1974 having scraped into Manchester University after enjoying a social rather than academic sixth form ! (did Mr Fitter really not notice the 3 hour lunch breaks, where a convoy of cars toured the pubs of Surrey?). I'm still in touch with a number of my year (and indeed my sister Jane's two years before me) and will get them to join up.
One of the best things Therfield did for me was to let me escape school and do a day-release to "Ewell Tech" where a few brave souls did an 'A Level' in Computer Science. As you might guess that rather sealed my fate career wise! You can see the whole sorry story at www.gandar.com and some examples of the thing I love most, after my wife Susan, that is photography.
---
Carol POSNER (now STEWART): message 19.02.08: contact: mikestewart999ATbtinternet.com
I was a student at Therfield from 1967-1974. I was there as Carol Posner I have sent the details to two friends of mine, Sarah Izzitt (née Youngman) and David Lee. The site is most informative. I now live in Dorking.
---
1975 (after lower sixth) Felicity KING (now Hook) : message 10.1.01, updated 10.8.05:
contact: felicityhookATdial.pipex.com
my personal memories of Therfield: I was in Polesden House and most people called me "Fizzy". I remember fondly Mr Claytor who was a wonderful headmaster (and who sadly died soon after retirement); those awful cross-country runs where I was always the last to finish; maths with Nick Hunter-Henderson (where is he now?); our favourite teacher, Mr Goldhawk (history); and orchestra practice with Miss Wilson. And the numerous friends I made - and am mostly still in touch with.
up to date: I am now married to Ian and we live in Reigate. I have three teenage stepchildren and I work as a Research Administrator at the Institute of Cancer Research.
reunions: Since leaving Therfield, Christine Moss (nee Burder) and I have organised two reunions for our year, in 1991 and 1998. These were highly successful and the last one was attended by nearly one hundred of our ex-classmates. We plan another one in a year or two's time, so now is the time to begin letting me know where you are now!
A few names to jog your memory:
Christine Sanders, Annie Harrison, Jayne Fort, Anver Qadri, Paul Ormerod, Bridget Pickard, Paula Keevill, Jacqui Gingell, Carrie Bonsey, Paul Stone, Robert Brown, Karen Peto, Ian Ward and Adrian Ward.
We also want to make contact with the teachers who were there at the time - at our first reunion we were pleased to see Mr Du Mont, Miss Wilson, Mr Tomlinson, Mr Henk, Mr Goldhawk, Miss Smith and Miss Nicholson. We didn't have as much luck contacting teachers the second time around. So please let us know where they are now!
---
1975 'Mac' McINTOSH : message 5.12.01 : contact: mac.mcintoshATbtinternet.com
Best memories - having a laugh. I joined the Air Force in 1977 and I'm still in, been here and there. Married with 2 boys 21 and 15 (was I that bad!! - kidding) . Seen a few people about in Leatherhead, but since the family moved I haven't been back often. I was in Norbury, house captain at Kingston Rd before moving closer to home at Therfield. We lived in Aperdele Rd across the Rec.
I can remember Sue Denman (having a fag under the stage), Lesley Stuttle, Lesley Richards, Julia Hardy, Kate Crawley, Lesley Cook, Julie Wright, Sally Coleman, Dina Collins and Tina Corbert. Blokes: Tony Doughty, Dave Chitty, Dave Buckland, Dave Bailey, John Carter, Phil Dymmock, Perry Muliner, Steve Longhurst, Steve Ranger, Chalky Middleton, Raymond Burrage, Chris Taylor, Paul Hutchinson, Alan Piper, Phil Nagel, Tony Dodge, Ian Critchley, Alan Driver and so many more I can't remember.
Teachers who stick in my mind: Mr Tomlinson and Mr France both PE teachers, Mr Hanks (Woodwork, caught me smoking), Mr Claytor Head Shed, Mr Phillpot English (great suits), Mr Middleton (Chemistry, someone left the oven or something, it went Bang) and Mr Jones (History), Miss Griffith (Biology), Miss Smith and Miss Nicholson, Mrs Hack. It would be good to get together again.
---
1975 Andy PRITCHARD : message 6.4.00 : contact: pritchaATuk.ibm.com
main memory of Therfield: Sixth Form ROSLA building and playtime.
doing now: I'm working for IBM as an 'IT Architect' - don't blame me for the job title! Last year I was leading a team trying to sell software to the South African Government. This year I am providing consultancy to the Serious Fraud Office (in London) and the British Army (in Blandford, Dorset).
---
1975/6 Susan DENMAN (now Morrish) : message 31.10.01 : contact: morrishsusanAThotmail.com
Oh my God! I cannot believe I have come across this site. Whoever realises - especially the teachers - would not like to remember me! Well here goes, I am married, have 4 daughters, 19, 17, 14 and 11. I live in Ellens Green, West Sussex. I was a successful secretary, then trained as an interviewer in London. After having my children, I am now nursing, specialising in mental health.
Mr Claytor was our headmaster before retiring and then Mr Wooding took over. He lived just around the corner to me in Ashtead and used to take me to school. I had a bad habit of not going very often and when I did, usually bunked off somewhere or nicked the key to under the stage from Mrs Moore's office and skived off there with other pupils - Lesley Stuttle, Deborah Sturt, there were more but can't remember their names. Mrs Hack would probably have a heart attack on hearing my name, also Nick Hunter Henderson, Mrs Ford who banned me totally from needlework forever. However there was one teacher, bless him, Mr Kay, probably died years ago, who taught typing and shorthand, I did like him and he liked me! I now know how my mother felt as my 2 eldest daughters were probably worse than I was. If anybody remembers me - God help them - contact me.
---
1975 Roger TUNSTILL: message 27.02.07: contact rtunstillATpacific.net.sg
Living in Singapore. Student 1969 to 1975. Only in touch with my family, Carole, David Sally and Jackie Tunstill who all went to Therfield. Sister Carole is in touch with many ex pupils!
---
1976 Ian WARD: message 14.05.01: contact: sheffieldATbest-training.co.uk
I attended Therfield together with my twin brother Adrian. He left in 1975, I left in 1976.
I have fond memories of the sixth form, in particular to do with my chemistry teacher, Brian Middleton, who inspired me to move into this field. After 17 years in the oil industry I now own an IT Training centre in Sheffield where I live with my wife and two children.
---
1976 Sue WILD (Kingston Road and Dilston Road - Sept 1970 to July 1976) : message 17.4.02, updated 22.12.02: contact: SsnWldATaol.com
I left Therfield in 1976 as a Year 11, moving to Rosebery in Epsom until 1978 and until a few years ago kept in touch with several ex-pupils. I met my ex-husband, Ron Dick in 1975, we married in 1981 in Ashtead and divorced in 1996. I have three beautiful, talented children, Jennie (16), Kaz (12) and David (10) and now live and teach in North Wilthshire, arriving here under very difficult circumstances prior to my divorce (no money, no home etc!).
I've had more jobs than I'd care to declare on a CV - from Deputy Manageress of Dorothy Perkins in Leatherhead, to overseas pensions clerk, secretary in London, computer trainer, YTS trainer and best of all, in the Wine Trade, taking many wine exams. I went to Surrey University at the age of 36 with hopeless A levels (I'm afraid I liked motorbikes, music and boys too much in the 1970s!) but came out with a BSc (Hons) First as a single parent!
I then decided it was about time I followed a life-long ambition to teach so took a PGCE in Primary Education with Kingston University. I now teach Year 3 and 4 in a lovely village school, do Tae Kwon Do (self defence) most days, watch rugby regularly and return to Leatherhead and Ashtead every few months to tend to my father's grave in St Mary's Church, Leatherhead.
I still send and receive Christmas cards from (maiden names only!) Elaine Barrett, Diana Gregory, Jane Skilton, Erika Pedersen, Maya Moldau and others. Prior to 1996 I used to see Ian Critchley, Andy Duffy, Roy and Dave Partington to name but a few. I've many memories (good and bad) of Therfield - one of the funniest being called to the Headmaster's office for a dressing down as my boyfriend (ex-husband) and I had been spotted holding hands outside of school and as prefects we had apparently let the school down! Oh yes - and at that time girls were not allowed to do metalwork and boys were not allowed to do cooking! How times have changed! Keep in touch.
---
1977 Susan HARDIE (now Leedham) : message 24.11.01 : contact: sueleedhamAThotmail.com
Teachers I remember are Miss Thomas (Latin), Miss Woods x 2, Miss Smith & Miss Nicholson, Mr Pratt - he used to give me lifts home after choir practice - and Mr Jones (Physics).
Having followed a career in retail I decided to go into law, something I always wanted to do. In 2000 I graduated with an LLB, Law with Psychology. I am now training to be a solicitor with a leading civil liberties firm. Ultimately I hope to specialise in education law, human rights and possibly family law. Hopefully I will make a difference for some one not in a position to make that difference for themselves at a given moment in time.
---
1977 Deirdre TURNER (now Timney) : message 17.9.01 : contact: andy.timneyATic24.net
My friends at school were Lillian Godfrey, Jenny Chapman and Denise Elson. The teachers I remember most are Mr Hunter-Henderson! Mrs Powick, Mrs Hack and Mr Mitchell, to name a few.
I have just started a 3 year course at Brunel University, studying for an honours degree in Occupational Therapy. I left Therfield with 8 medium grade C.S.E's. I went to Woking College in 1994 to study Advanced GNVQ in Health and Social Care. Had 2 years working in a nursing home as a activities organiser before continuing my studies.
---
1978 Julie FENTON (now Stretton): message logged 12.8.01: contact: julie_strettonAThotmail.com
My brother Stephen (who left in 1982/3) told me about this website I also have a sister Christine who left in 1976.
Names I remember from my year are Jill Gregory, Tamsin Clements, Janet Payne, Paul Hook, Graham Jones and Stephen Statler. I remember Mr. Du Mont taking us for English and Mr. Tilley the maths teacher. I also remember Mr. Hoggins the Biology teacher taking a class of six of us girls for our 'A' level. Mr. Perkins was head of the sixth form when I was there and Mr. Wooding was Head Master.
I'm married with two children, Stephanie and Thomas, and work as an accountant. I still keep in touch with Fiona Stone (now Johns) and still see some of the old pupils when I'm in Leatherhead visiting my mum. I hope more ex-pupils contribute as it's interesting to know what people remember and what they are doing now.
---
1978 Erika PEDERSEN (now Willson) : message logged 16.12.01 : contact: willcarsATsosi.net
I joined Therfield in 1976 from a school in North London and left in 1978 but have very fond memories of my time there. Remember Mr Du Mont (who gave me a real love of literature), Mr Pratt (did he continue to be so enthusiastic?), Mr Tilley, Mr Hunter-Henderson (the only teacher to reduce me to tears! ), Mr Wooding (who gave me extra tuition to finally get the Maths O level I needed to be a nurse) and several other teachers whose names I can't remember but whose faces I can still see. I stayed on to the 6th Form and was privileged to be Head Girl in 1978.
Still keep in touch with Maya Moldau (she was my bridesmaid) and via messages with Russell Lowes and Andrew Duffy, also Susan Wild. I'm now married (20 years) and living in beautiful Devon. Have 3 wonderful kids, 16, 13 and 8 years old, two dogs, a cat, 4 chickens and a rabbit plus lots of wild pheasants. Have given up on nursing - too much stress for little financial reward. May return when my youngest is a bit older. At present work as a Development Worker for the Devon Childminding Association which I thoroughly enjoy. Congratulations to Therfield on becoming a Beacon School - in my day it didn't have a brilliant reputation!
---
1979 Gary BRAY : message 3.8.00 : contact: garybbrayATaol.com
I went straight into the telecom industry (Post Office Telecommunications, now known as BT). I met my wife Sue (maiden name Mills) in 1981, Sue actually left Therfield in 1980 - SueBray3ATaol.com.
My parents still live in Ashtead, and my sister Claire Wellings (Bray) left Therfield approx '84, she married Craig Wellings who left Therfield in 1981.
Teachers I remember (sorry if the names are spelt wrong) are Mr Hanks, Mr Wakefield, Mr Temple, Mr Williams, Miss Wood x 2, Miss Mills, Mr DuMont, Mr James, Mr Brown, Mr Harris and the head Mr Wooding.
We are currently living in the USA (Mountain Lakes, New Jersey) with our 3 boys (Tom 13, Jack 11 and Danny 8). I work for a company called Concert, which is a global venture between BT and AT&T, I'm the Product Manager for Satellite Services. We have been in the USA for a year now and prior to the US we lived in Horsham, West Sussex (13 years).
---
1979 Russell YATES: message 12.7.01 : contact: russellATcoolbadge.com
I would love to contact old school friends. I remember Mr Pratt, the name Hunter-Henderson rings a bell. The PE teacher & the German teacher both played rugby, is all I can remember. School friends I remember include: Richard Morris, Michael Ritchie, Kevin Sanders, Steve Greenwood, Fuggie & Ann Grimes, Elaine Berg, Leslie Scottow, Vince Armstrong, Tony Easton, Richard Killick......
I now live in Crouch End, London & run my own music promotions business.